How do you make your next big event stand out from the crowd? Get a chocolate fountain of course. Not only do they look impressive, it's chocolate! And by hiring one from a party rental agency, there are no big costs involved.
These 5 simple tips will make sure your chocolate fountain is the highlight of your wedding, party, fair or festival.

1. Don't set up the fountain in cold areas or near drafts
The reason is that cold air and drafts will make the chocolate start to cool and harden, and the fountain won't flow well. Make sure the fountain is not under air conditioning vents or near doorways. Tempting though it may be, don't use a chocolate fountain outside, wind gusts and insects can wreak havoc.
2. Make sure the fountain is level
Before you put the chocolate in, adjust the feet on the fountain to make sure it's level. By doing this, you will allow the chocolate to flow evenly through the whole fountain.
---
Call Special Event Rentals for chocolate fountains inquiries
---
3. Melt the chocolate before your event
Chocolate doesn't harden until it drops in temperature to around 70-72°F. By putting the melted chocolate in plastic tubs inside a plastic or Styrofoam cooler, the chocolate will remain warm for several hours. Then, when guests arrive, you and the chocolate are ready.
4. Always preheat the fountain before adding the chocolate
If the chocolate is poured directly into a cold fountain, the chocolate will cool, harden, and not flow properly. By pouring your pre-melted chocolate into a warm fountain, you will hear the "oohs" and "aahs" of your guests.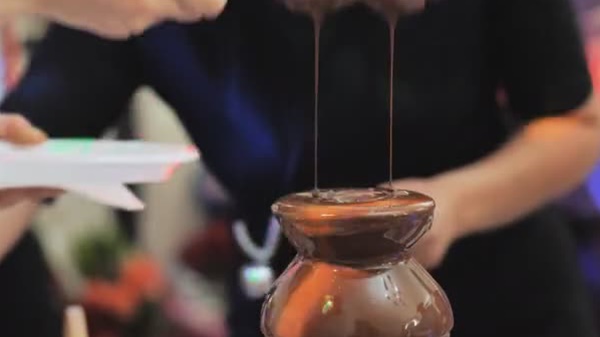 ---
9 GREAT PARTY TENT LIGHTING IDEAS FOR OUTDOOR EVENTS
WHAT YOU NEED TO KNOW BEFORE USING CARNIVAL FOOD MACHINES?
---
5. Be prepared
Test the fountain before you pour the chocolate in to make sure it's working properly. Make sure you have an apron, plenty of paper towel, sponges, a spatula and containers for leftovers. And importantly, make sure the electric cord isn't exposed; you don't want anyone tripping over it and knocking over the fountain.
Simply by following these tips, a chocolate fountain will make sure all your memories of the event are sweet ones.
See our chocolate fountain rental items.